Welcome to MASTER UR MIND
Master Ur Mind has been training children in the age group of 8-21 years for the last 12 years. More than 6000 children have mastered the Art of Public Speaking here. The aim has been to teach communication skills to children in a fun way. The motto of Master Ur Mind is "Educate, Entertain & Encourage".
Regular Courses throughout the year- Two days per week ( Weekdays or Weekends)
SENIORS (11-21 years)
Art of Public Speaking, Extempore speeches, Group Discussions.
Current affairs and fun filled Quizzing.
How to make study time fun and effective.
Memory Techniques think out of the Box.
Smart Time Management.
Build your vocabulary.
Body language.
JUNIORS (8-11 years)
Art of Public Speaking,Story Telling & Role Play
Improve Communication & Comprehension
Develop a reading habit.
Build your vocabulary.
Current Affairs and Etiquette.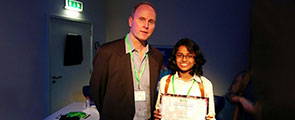 Aninthitha Nath of Master Ur Mind wins laurels at the Oxford Union!
Aninthitha Nath of Master Ur Mind won the First Prize for the best individual contribution to a debate conducted in the hallowed hall of the Oxford Union, UK. This is the very same debating hall which has seen the likes of Benazir Bhutto, Morgan Freeman, JF Kennedy, Mother Teresa ........and now Aninthitha. The debate topic was "Whether current sustainability education will lead to a more sustainable future". It was organized by the Trust for Sustainable Living along with The Living Rainforest. 25 secondary school children from 17 countries participated.
TV NEW interviewing Oxford Union debate winner Aninthitha Nath and Mrs Reena Paul, Director Master Ur Mind