Aninthitha Nath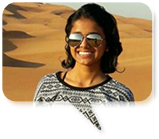 My thoughts more often than not, flow faster than I can even comprehend, much less organise them, and this is where Master Ur Mind has been a tremendous help. It has helped me to organise and frame winning speeches, kept me up to date with current events all the while keeping in mind the key element; having fun. I loved the classes and I was always slightly upset when circumstances forced me to miss an occasional one. I wouldn't be the person I am today, if it wasn't for all those years I spent at Master Ur MInd.
Thank you for all your help and constant support.
My Achievements:
Won best speaker at International Schools Debates & Awards held at Oxford Union, Oxford.
Ambassador (for the period of the competition) for the Trust for Sustainable Living. Gave a talk on their behalf to the representatives of the Abu Dhabi government at MASDAR City.
Voted as the 2nd Most Popular Debater at the National Open Round – Intellebate (WSDC 2016 team India)
Best speaker (West Zone) in WSDC team India selections(2016-17)
Best delegate at Podar Summit and IDC MUN's, while representing United States of America and Superman respectively.
Selected to attend the Winter Session of the Parliament as a spectator.
High Commendation at IIMUN Championship Conference held at the Taj Mahal Palace Hotel, Mumbai. Invited to New York for the international round.
High Commendation at Indian Youth Parliament representing Jawaharlal Nehru in a historic committee.
Won quizzes and elocutions/extempores at city, state and national level.
Aninthitha Nath
Std. 11
School: R N Podar School, Mumbai
Mrinalini Nair A.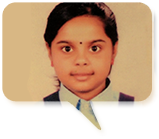 I feel that Master 'Ur' mind is a magical place where everyone is special and unique. It is a place which helps you achieve everything that you really want to achieve. The programme boosted my confidence, self-esteem and punctuality. It improves your critical thinking because of the spot decisions that you have to take - very innovative and educative.
The programme has helped me improve a lot. Reading the newspaper daily made aware of the current affairs. All the small quizzes and related games that we had really helped me in the field of quizzing – which I love. My writing skills and language have improved markedly soon after I joined the programme. This enabled me to win several essay writing competitions and quizzes. Debates that were held were based on current important topics thereby improving my analytical and debating skills. It was a place where I could improve my people skills- interactive skills. I really loved taking this course. Every event influenced me positively enabling me to become a better student and human being.
Mrinalini Nair A.
Std. 8
Bhavan's Vidya Mandir, Girinagar

Joseph and Sebastian Abraham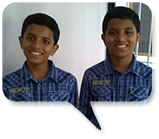 We are twins and our names are Joseph and Sebastian Abraham. We are studying in Std. 7 . We have been attending Master Ur Mind classes since 3rd std and would love to continue for as long as we can.
Master Ur Mind classes have helped us to achieve things which we never ever imagined. After just a few classes itself our confidence levels and communication skills improved considerably.The debate and quizzing sessions improved our debating skills and general knowledge. There were also fun sessions where we learnt voice modulation and the power of humour.
Above all, dear Ma'am you keep the class interactive and there was never a dull moment or a time when our spirits were down. You are so patient and loving...that"s the reason we come everyday. We are very grateful to you Ma;am . Thank You!
Joseph and Sebastian Abraham
Std 7
Rajagiri Public School
Biju Joseph Peter (Father of Amy Biju Joseph)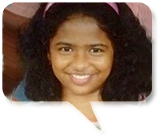 My daughter, Amy Biju Joseph has been attending Master Ur Mind for the last 4 years and in her journey with Reena Ma'am, I have found a tremendous change in her overall personality. We initially enrolled her to improve her speaking skills but to our surprise the curriculum Ma'am is following has improved her interests in other areas like current affairs , newspaper reading, leadership skills etc. During these 4 years,she has never missed even a single class as she believes that she is going to learn something new and interesting everyday.
Biju Joseph Peter
(Father of Amy Biju Joseph)
Std. 6
Toc H Public School

Jijo Jose M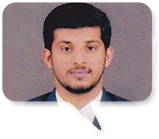 Last summer vacation, I heard about Reena madam's classes.I attended the 9 days vacation batch and found it very useful. I overcame my stage fright Then I joined her regular classes. Reena madam always encourages the habit of newspaper reading. In every class we spend a few minutes discussing current affairs. Each time I stand in front of the class and speak, my confidence level keeps increasing.Today I can proudly say I have really improved in my general knowledge , vocabulary and public speaking skills.Now I participate in many quiz competitions too.Thanks Reena madam.
Jijo Jose M
1st year degree
Nehru college, Coimbatore

Ryan Joe George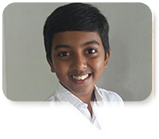 Master Ur Mind has helped me to enhance my self esteem, confidence and inter personal skills. Through Master Ur Mind, I have learnt to express my thoughts and feelings better. It has given me the power to explore new opportunities like quizzing. Reena ma'ams words are highly inspirational and motivating. On current issues like demonetisation, I can speak really well as this has already been explained in a lucid and simple manner by Reena ma'am. Master Ur Mind has given me the courage to come forward and express my point of view on any topic.
Ryan Joe George
Class 7
Toc -H Public School
Navanit & Nivedit Nandakumar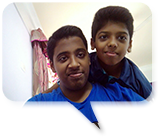 My name is Navanit Nandakumar. My younger brother Nivedit and I have been attending Master Ur Mind classes for several years.This course has really improved our GK and inculcated a regular newspaper reading habit in us. Now we are able to consolidate our thoughts before speaking on a subject and it has made us more articulate. This fully fledged public speaking course is essential for everyone, not only kids but teens n adults too.
Navanit & Nivedit Nandakumar
Bhavan's Vidya Mandir
Girinagar

Bindiya Anand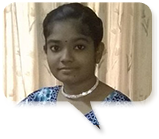 l am indeed fortunate to have consistently attended classes at Master Ur Mind for over four years.Reena ma'am has always motivated and instilled confidence in me.I consider her as a guide and mentor . She has helped me in my overall development.I am pretty sure that the quality time spent with Reena ma'am would add value to my life in the years ahead
Bindiya Anand
Std. 8
St.Sebastian's Public School
Kochi